NEW Connected Fire Container Monitoring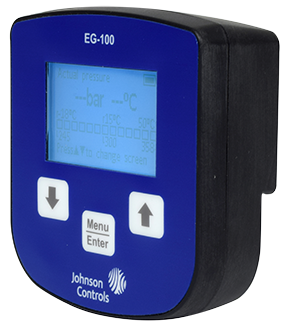 Through a culmination of years of research and development by Johnson Controls industry-leading engineers and data scientists; we bring to you Connected Fire Container Monitoring, which has been designed with agility, flexibility and scalability in mind, to enable your building to manage its operations systematically, by delivering buildings that have memory, intelligence, and unique identity.
Johnson Controls has developed the Connected Fire Container Monitoring system which has been designed to remotely monitor the pressure and temperature of our Halocarbon and Inert gas Fire Suppression Systems.
The Container Monitoring device works by collecting data from each container at set time intervals and is capable of connecting to a mobile device such as a smart phone or tablet, enabling real time data to be shared via an online dashboard.
This data can then be sent wirelessly to the cloud and analyzed to regulate the pressure based on the temperature and provide information that allows instant intervention to be taken, in the case of an unexpected change in pressure as needed to ensure the continued health of the Fire Suppression System.
REQUEST ACCESS
Access to the Container Monitoring system is granted on a company basis and will be given to a designated User Administrator. The User Administrator is then able to provide access to other users in the company and can manage their access going forward.
Please follow these steps to request access:

1. Assign one person from your company that will be the User Administrator (an additional user administrator can be added)

2. Request company access and administrator access by Clicking Here.

3. Johnson Controls will review your access

4. Once approved you will receive an email with your user name and password

5. Log into the Container Monitoring at www.connectedcontainers.johnsoncontrols.com/#/login
(Container Monitoring system dashboard can then be accessed, once the request is approved).

How to download the app -
Once you have received your logins you will also be able to view the dashboard through the Johnson Controls mobile app.

Alternatively go to the app store and search on Connected Fire Container Monitoring
Additional Information